Rexy is a 3.5 star Dragon Arkadion. Its element is Earth.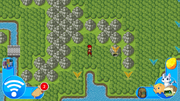 Forest near 
Ergan
. 
Average 1/20 (5%).
South West of camp Larken on the coast (takes a while)
Evolution
Edit
1st Form

Evolves at lvl 35

2nd Form

Final Evolution

Rexy
Georex
Stats taken from monsterpedia (in other words Lvl 1).
| HP | Attack  | Magic | Speed | Defense | Resistance |
| --- | --- | --- | --- | --- | --- |
| 31 | 10 | 10 | 13 | 13 | 13 |