Ashie is a 2.5 star Dragon Arkadion. Its element is Fire.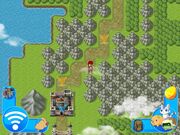 Second tile North of Agramis. Spawn rate 1/200 (0.5%) with a guaranteed encounter at 2000 battles without meeting a hatchling.
Catching Tip #1:  Metallodious's Escape ability makes farming for rare Arkadions at least twice as fast.  No waiting for attacks to process or collecting 3 XP and 10 gold after battles, and the Escape move works 100% of the time.  Thanks to reedobandito for the tip .
Catching Tip #2: Get yourself a low lvl Seaspine or a high lvl Seaquill. Once you do get one of the hatchlings to appear you will notice that it doesn't have 100% Catch Rate unless you use Gold.
Let the hatchling attack Seaspine or Seaquill. As long as your Seaspine is of a lower level it should hurt the hatchling just enough to increase it to 100% Catch Rate. Nothing is worse than finally having the monster appear only to not catch it due to it not being a 100% Catch Rate.
it can also be obtain from the first egg you obtain from catching the fang.
Evolution
Edit
Stats taken from Lv. 4 immediately after capturing.
| HP | Attack  | Magic | Speed | Defense | Resistance |
| --- | --- | --- | --- | --- | --- |
| 167 | 48 | 58 | 14 | 119 | 119 |
Community content is available under
CC-BY-SA
unless otherwise noted.